Information about the Login System
Using the login system you may connect your own notebook to the internet at any activated network socket on campus (for example in the corridor on the ground floor of the natural sciences institute building), as well as within all of the wireless network access areas.
Connecting via Wireless LAN
For this you need to have a WLAN card in your device.
Connecting via a Network Plug
For this you need to have an Ethernet network card in your device that has a fitting (RJ45) connection.
Preparing Your Device
This requires the following configurations: in the system administration below network connections choose LAN connection / LAN Verbindung or wireless network connection / Drahtlose Netzwerkverbindung, then right-click on 'Properties / Eigenschaften':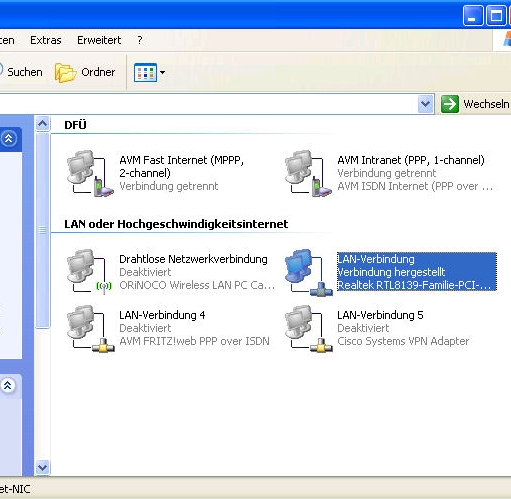 Within the following window please configure the IP address and the DNS server as follows: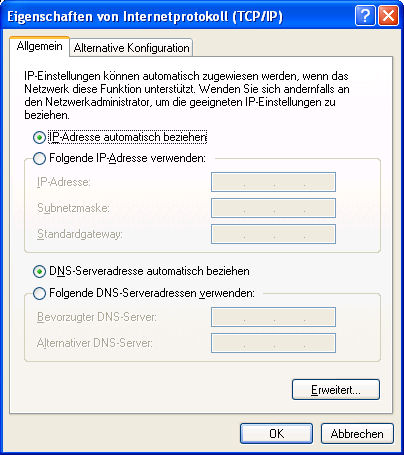 Important: please check 'DNS-Serveradresse automatisch beziehen' and make sure that no DNS server address has been entered manually, so that the automatically assigned DNS server is used.
Then click

OK

.
Login to the Network
To log in please direct your browser to the following address:
login.uni-mainz.de
You will then (after confirming the security certificate) get the following login screen:

Here, please enter the user name and password of your JGU account. After successful login you will receive the following message: 'Anmeldung erfolgreich'. After that you will be able to use the internet almost as usual. Due to the usage of dynamic addresses and 'network address translation' there might be restrictions with some internet services.
In case the login screen appears again and again, there is probably a problem with the firewall on your device. An instruction for configuring the firewall can be found → here (for various operating systems).
Questions?
If you have any questions or problems concerning login to the network please contact our helpdesk. Mail: → hotline@zdv.uni-mainz.de or the network department of the Data Center. Mail: → noc@uni-mainz.de .