💡 Do you have sufficient credit on your copy and print account? You can check your JGU account balance online by logging onto the print and copy center → https://drucken.zdv.net.
💡 Do you have an ID card and PIN to identify yourself when preparing to print? → Assigning an ID cardIf you're a member of the Johannes Gutenberg University staff, you can obtain information on multifunctional device use here → Information on Printing and Copying for Members of Staff
First Steps
First, you have to create an ID card (e.g. a Studicard) at a "Printing and Copying Service Terminal" (Druck- und Kopierkonto Serviceterminal). You need a JGU account for this process.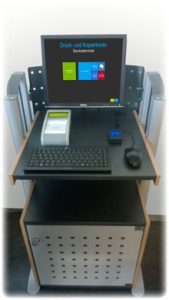 Then, you need to transfer credit from a Studicard onto your copy and print account at a "Printing and Copying Service Terminal". For that, you need the card you chose in the first step and, on that card, some credit. You can transfer money onto your Studicard using the Studierendenwerk's cash deposit terminals as usual.
Members of Staff: Please note that printing and copying for official use is not paid for through the use of deposited credit. Your JGU account needs to have an Abrechnungsobjekt/Kostenstelle in the copy and print system.
Then, you can sign onto a Kyocera copy machine using the card you chose in the first step. You can do that by holding your card to the card reader and following the instructions on the display.
Note: Remember to sign off (by clicking "Sign off" (Abmelden)) on the keypad or touch panel of the copy machine after you're done using it; otherwise, others using the machine after you can use your credit to copy their documents and can also access your present printing jobs.
Most printers let you copy and scan, as well as print. In order to use the machine, you first have to sign on. You will need to use your ID card and PIN to identify yourself. There will be a scanner on the side of the printer, the symbols will show you where. Put your ID card on the card reader.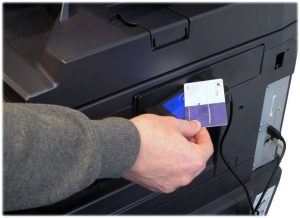 Enter your PIN on the keypad or touchpad.
Before signing on to the machine, send your print jobs from your computer to the printer \\jgu-ps-1.zdv.net\Drucken.
In case you cannot select the printer, you first have to install it → install.
Print jobs you have sent to \\jgu-ps-1.zdv.net\Drucken can be printed out using any of the campus printers from the ZDV (of course, you can only print in color using color printers, in A3 format only using printers that can print the A3 format, etc.).
❗Important Notice: Printing on transparencies or cardboard is not possible due to the high failure rate.
If the display now shows Enable Print Jobs (Druckaufträge freigeben), you can choose your print job from the list and enable them.
If the display shows Ready to copy (Kopierbereit) and the functions for copying are displayed, tap the button Applications (Anwendungen) or, depending on the model, on the Home button.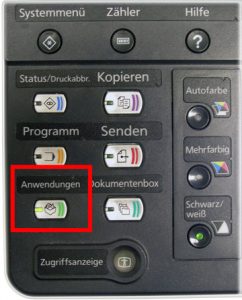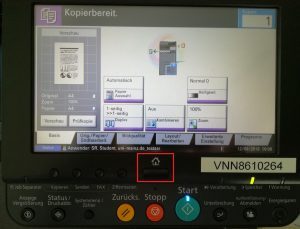 The Papercut Display should appear now.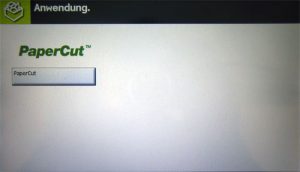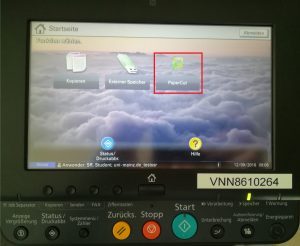 Tap the button Papercut. You should be able to view and choose your print jobs as usual.
💡 Tip: Keeping an eye on costs: Using → https://drucken.zdv.net  and Newest Print Jobs (Neueste Druckaufträge), you can view the print jobs you have sent but not printed yet and, additionally, check how much each print job will cost.
Soon you will find information on copying and scanning with different types of printers here.